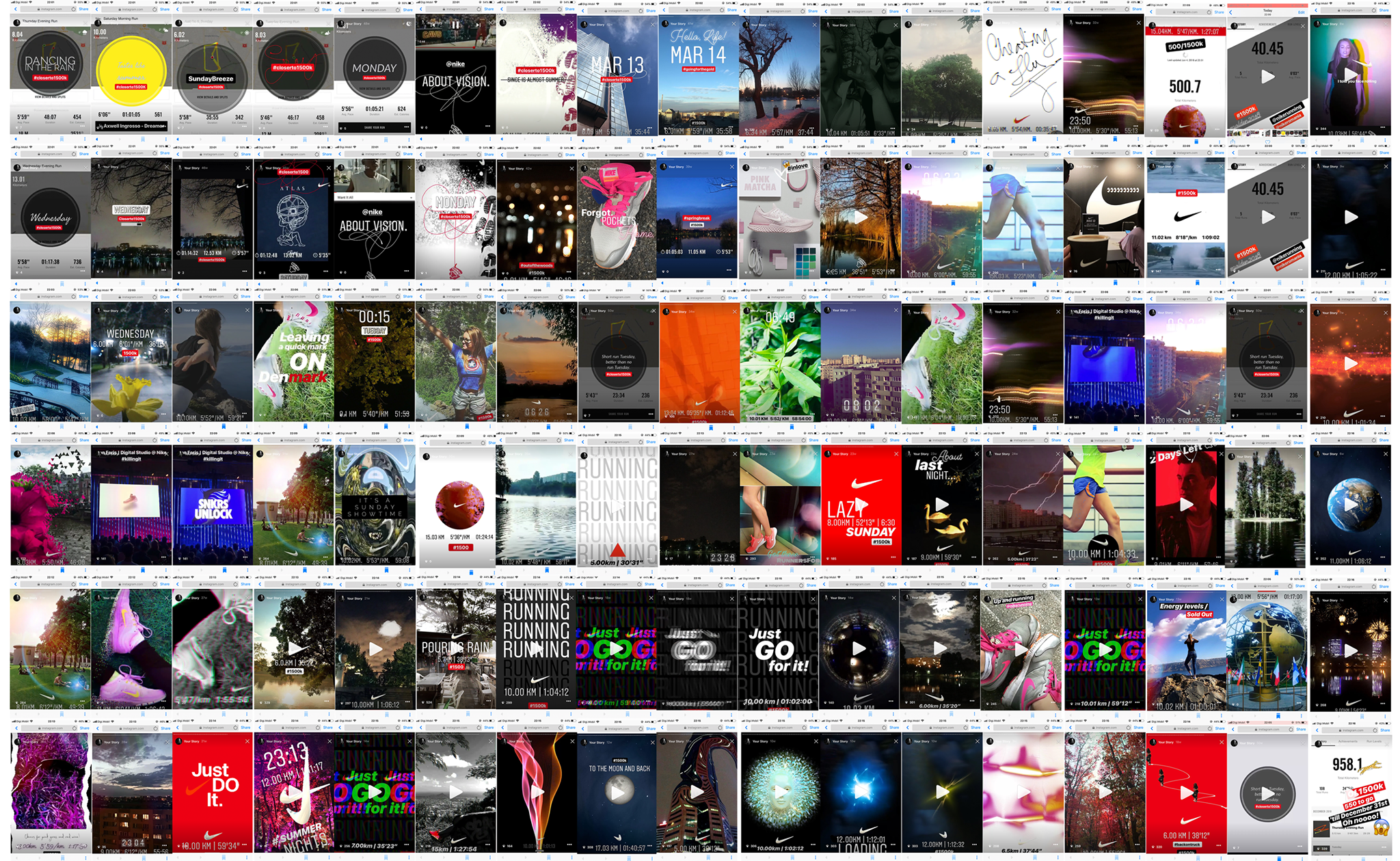 Dear Nike, thanks for giving me fabulous vibes during a whole year.
Here's what happened.
Running it's been my fuel for the past years in many situations. I started in college and continued ever since. I always loved sports and practiced many of them, yet this one settled as the baseline for my wellness foundation.
2 years ago, in 2017, I set up my first big goal: to have 1000 km ran at the end of the year. It wasn't supposed to be a big effort since I was running pretty often, but I never tracked my runs over such a long period, so I decided I should start monitoring.
As for my runs, 90% of the times, they happened in a pair of Nikes. It was the brand boldness that gained my attachment.
My interest started to grow. It wasn't just the shoes, but a strong curiosity of how the brand started, what's the story behind and the challenges encountered in the journey of becoming World's No.1 brand for sports shoes.
Episode 01
The Book, the man and a beach in Hawaii
Since my interest for the brand connected pretty well with my running routine, I started to dig in deeper.
It was Saturday, September 10th when I walked into this library in Bucharest and found this.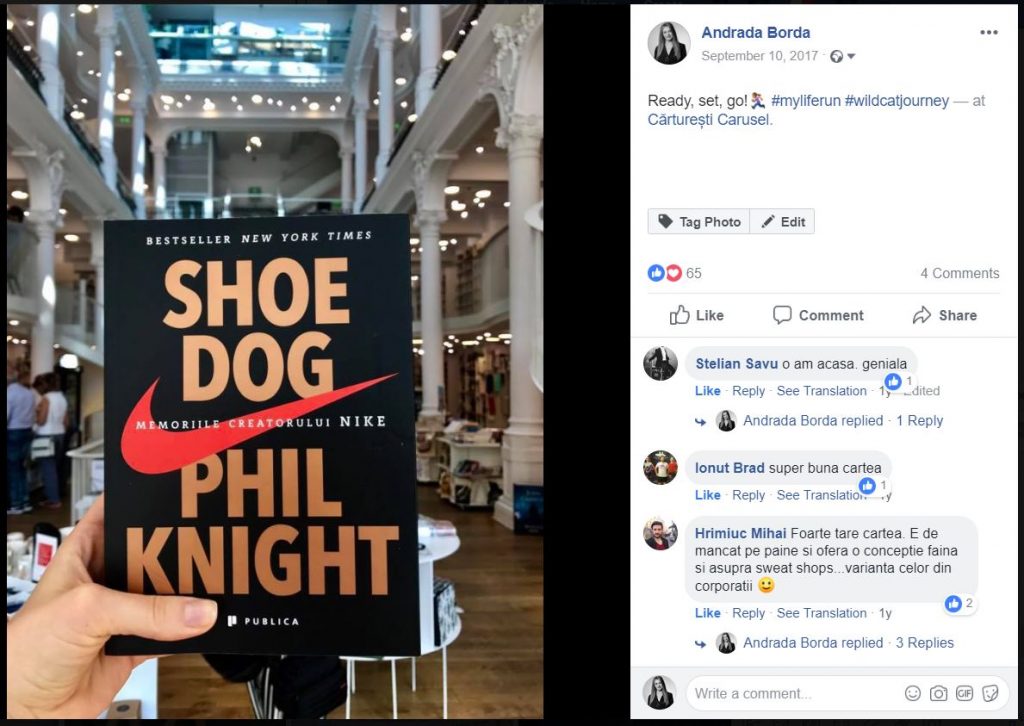 Man…I've enjoyed every piece of it. The book is the biography of Phil Knight, the founder of Nike. The story starts after he graduated college. A 24 years old Phil, driven and thirsty for adventure. He decided to go on a trip around the world for self-discovery. His first stop? Hawaii. (I couldn't help myself not thinking about the fact that my first trip to Hawaii happened when I was 23 myself, laying on Waikiki Beach, with a pair of nikes, after finishing The Haiku Stairs trail.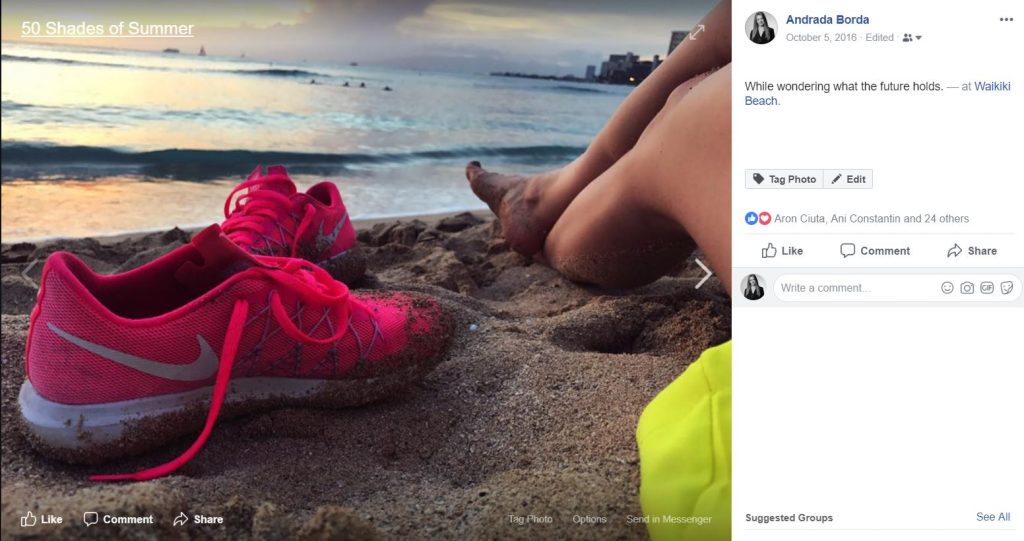 The World is spinning around while making things fall in the right places. You might think I'm joking, but I'm really not. I stopped joking about it after I analyzed a long list of things that connected throughout my life in ways I couldn't grasp.
As I was saying, my thrill reached new levels while reading the book. It just gave me really good energy.
Episode 02
908 km ran in a year, a pair of injured knees and lots of foolish ambition to go forward
17th September 2017. I was getting close to 750 km out of the yearly goal of 1000.
Things were going well and the energy was good too. Until that Saturday. My last run had a length of 18k and was followed by a week and a half pause. You're usually supposed to grow your lenght target by 10% to 15% a week, yet I was too hyped to consider progressive running that day. And instead of going for 20k, I did 26.
One week later, I was on physiotherapy with a kineto treatment to follow for my knees.
I had to cancel the scheduled half-marathon I had in two weeks and after my doctor put me on a 3 months recovery pause, he also highlighted that my 1000k yearly goal had to be postponed.
You know what they say: The doctor says, the patient does. Or not..
About how I ended my year at 908 km instead of 750 km and added 150km with an injured knee, you can find out here.
Episode 03
There's something getting cooked even when I'm not in the kitchen
You can imagine my disappointment after that. My motivation was down. I was annoyed by my recklessness. A couple of days later, in a Sunday evening, I was trying to shape the structure for my article on Phil Knight's biography. My roommate at that moment, Flori, asked me if I'm in the mood for a movie and since my lack of inspiration wasn't exactly helping me with writing, I took a pause.
– What do you wanna watch? A comedy, something inspirational?
(I honestly prefer a comedy than another motivational stuff, but I wasn't in the mood for taking one more decision so..whatever worked).
-Whatever you want. I'm fine both ways.
She found 2 movies. Both inspirational.
The one we choose to watch was called Without Limits. I didn't know what it was about and didn't even know it existed until we played it…and…just wait for it…
The movie was nothing else but the story of Steve Prefontaine, Nike's first champion athlete and Bill Bowerman – Nike's Co-founder, the man that made the very first pair of Nikes. How was that possible, really..? How that from millions of movies, she found exactly this one? (She didn't know who these guys were by the way).
*Goosebumps*
Episode 04
An idea, some learnings and a Phoenix ready to rise, or not.
On a side of all these, I was working on shaping this business idea that kept on buzzing my mind. The project name was Phoenix and it was designed for runners. I did a lot of research that period. Marketing insights, product design, implementation, two courses on how to manage a software business and how to connect it to the product. I also ordered the only existent book on how to design athletic shoes. It travelled 8000 km from USA before landing in my hands.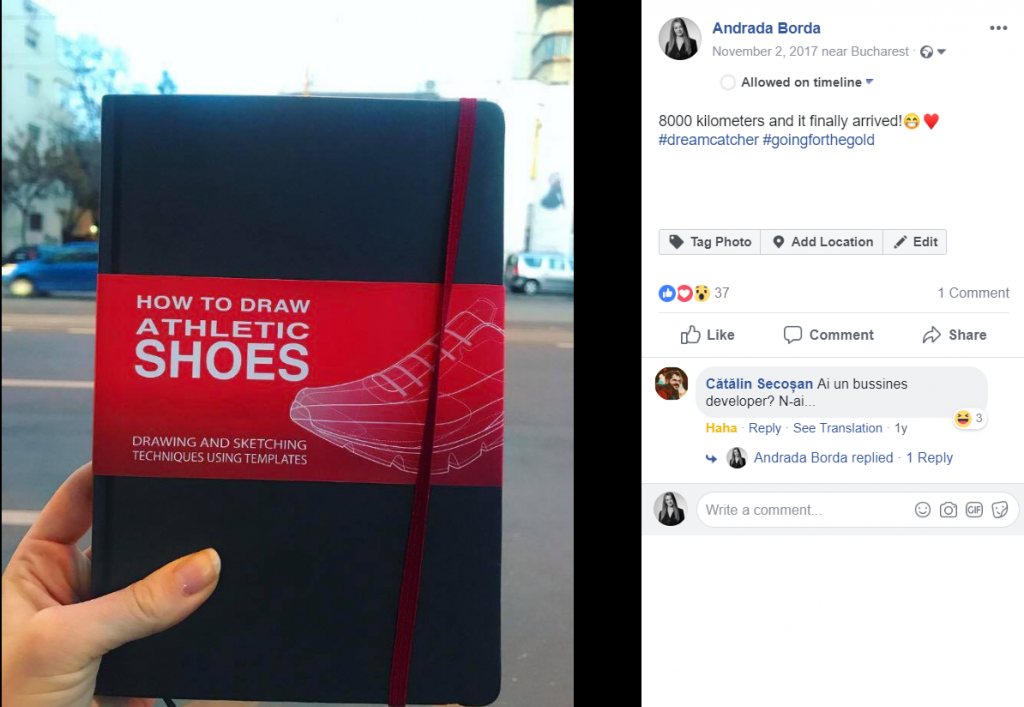 There were days working on finding the people to develop the software and that was the most difficult part. Well, there's a full pack of things that I've learned during this process, while banging my head against the wall and this article is not about it.
But something happened one night. I was hanging up a call with a friend that was supposed to create the app. He was pulling out. I needed a software developer for the first phase of the project and a lightning engineer for the second one. The first one had been calling to tell me he's out, the second one wasn't even in the picture yet.
I put the phone down and took a minute to process the situation. It felt like there were so many things missing out of the puzzle and I didn't know how to fix it this time. Where's my Phoenix going? How am I suppose to connect all these resources when it's so hard to find them in the first place. What's that I'm doing wrong? (I understood later) I grabbed my phone and opened my Instagram while eating corn-snacks. Checked notifications and there was a user..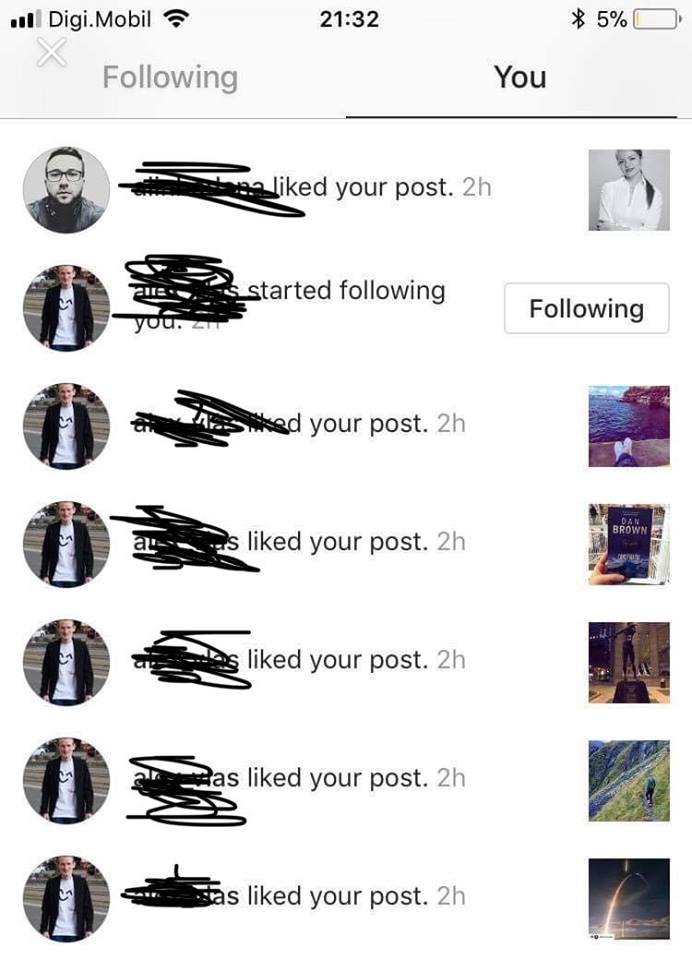 Who's this guy liking my posts? I opened his profile to take a look at it and his description hit me. Engineer. Studying Lightning Design in Copenhagen.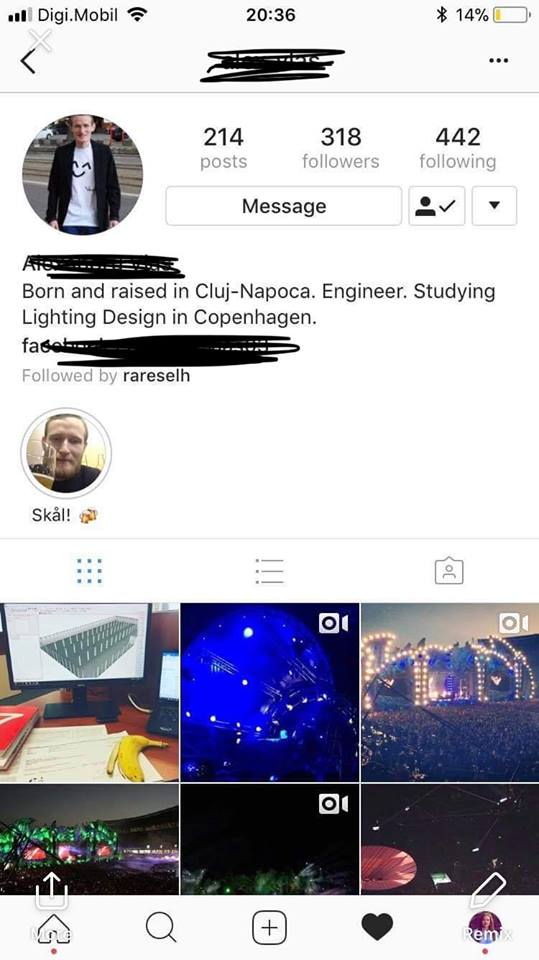 I got goose bumps right after and dropped the snack bag down. You gotta be kidding me.. Yet, hold your horses, cause the best is yet to come. I bended to take the snack bag that I've just dropped on the carpet when I notice the message on it.
"Feed your optimism".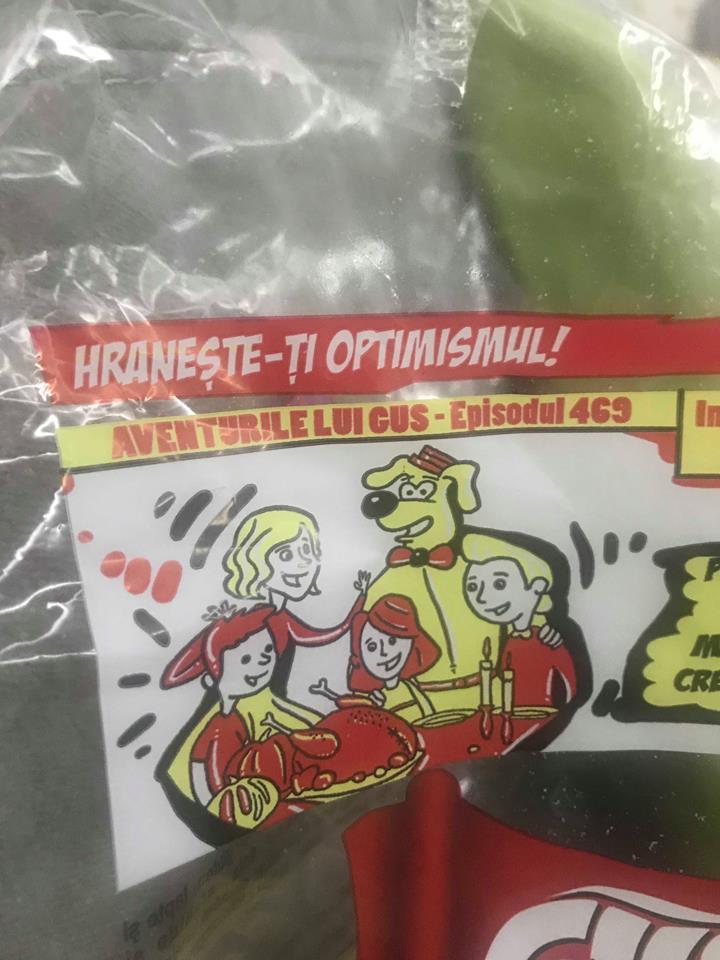 Oh, COMM'ON!
I started to laugh while putting it back on the table, when it really hit me. On the back of the snack bag, there was the name of the company producing them: Phoenix.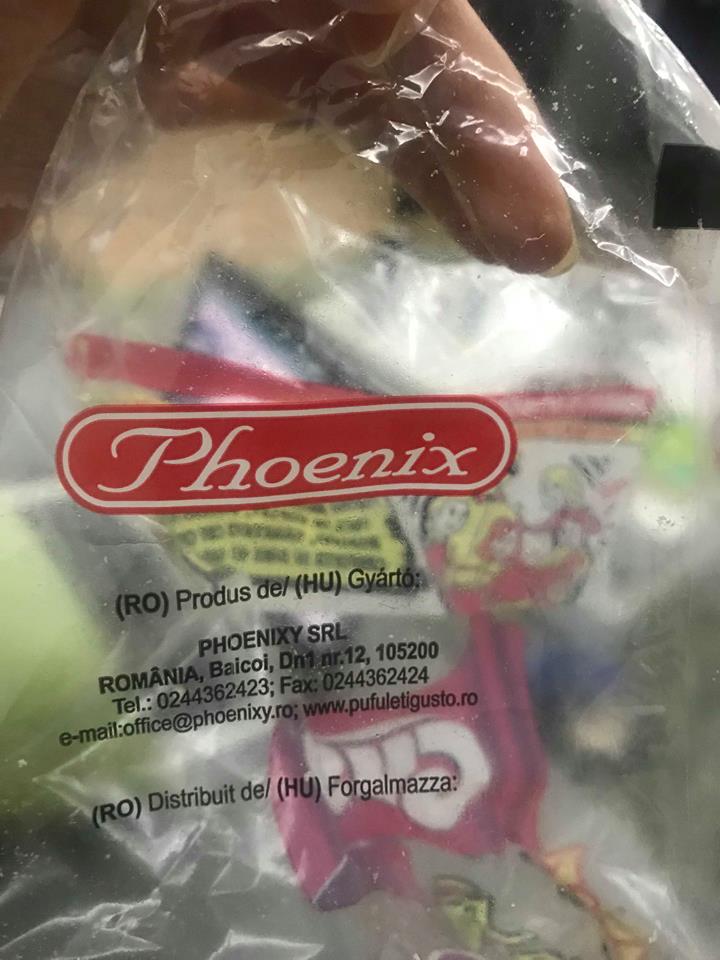 A call, a friend who quitted, a random instagrammer and a bag of corn snacks with a message and the name of the project behind it. You can draw whatever conclusion you want.
Here's my takeaways from these experiences:
Timing: There's going to be planes coming and going. And you'll wanna board in some of them. But sometimes, if you're not ready for those flights you'll miss the check-in. And that's ok. Failures prepare you better for the incoming flights. Next time, you're gonna be ready for them.
Diversity: Keep changing your routines if you want different outcomes. That's just as it sounds, pal. You gotta do different stuff if you're looking for changes. And once you decide on what you'll stick with for the next period, you gotta be consistent. At least until you reach your goal or understand it's not for you.
Happy You means results. In whatever you're doing. The best things that came into my life, resulted from those activities that made me happy. What makes you smile, it's what's going to bring new opportunities in your life in a way or another. Give yourself more credit to do the things you love. And be patient.
Episode 05
2018: 1002 km in 113 Running Stories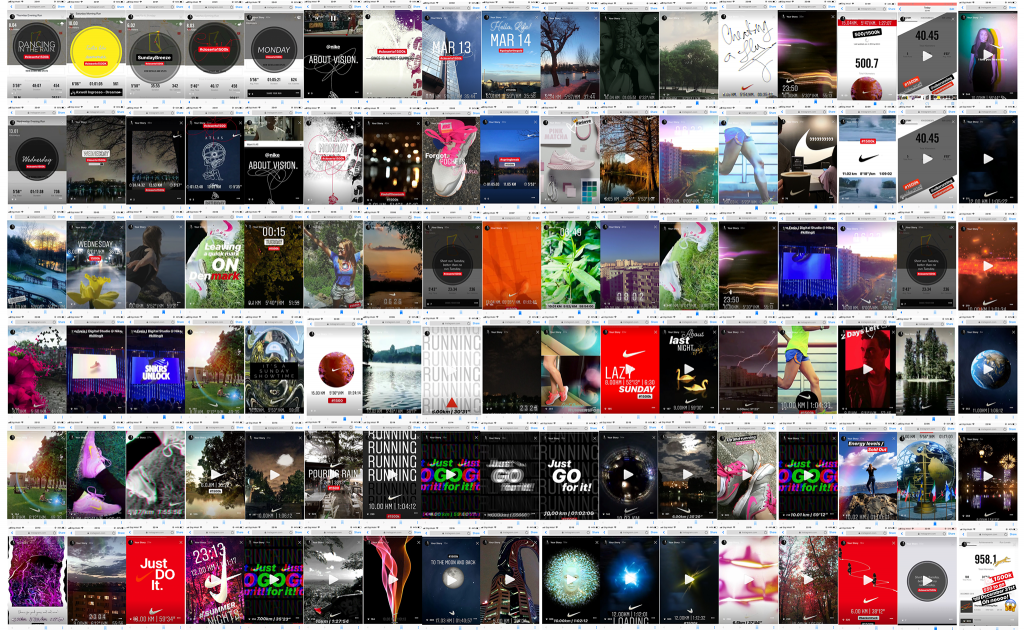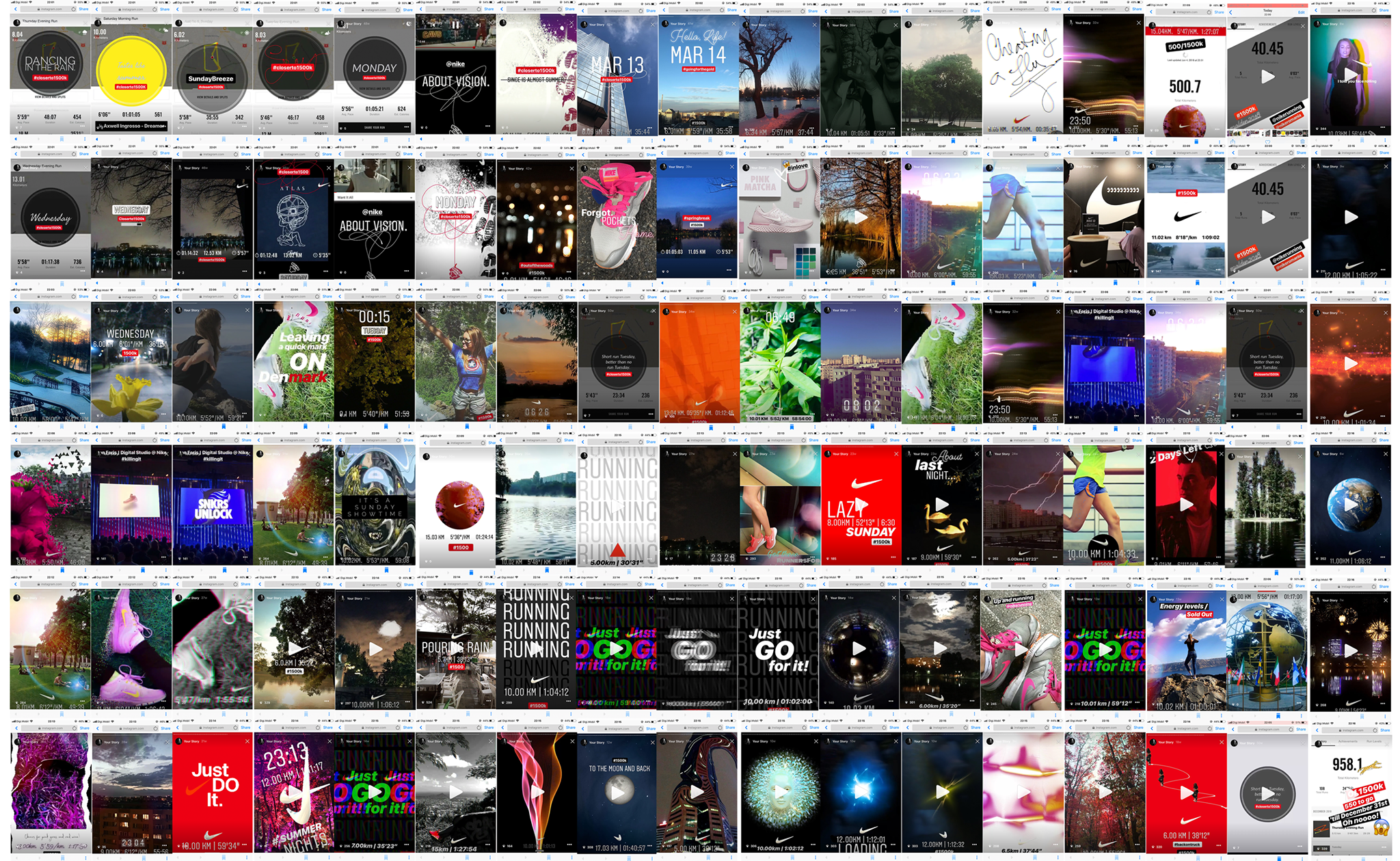 In December 31 I drew the line at 1002 km ran in a year, reaching the Blue Level in the Nike Run Club.
This time, I documented everything: 1002 km, 113 runs, 102 Instagram Stories that can be seen highlighted here. (Couldn't load all of them, since the App stuck for having too many in a single highlight.)
Do the math to see the price you're actually paying for your time and what are you getting from it.
At first, I set the goal for 1500k, but after 12 months I realised I wasn't realistic with it, since beside it, I had a full time job, volunteer work, a reading target, therapy sessions and a social life on top of them. I regret none of them however, since all of them occupied a very important role in my life. I do advice you to do one important thing however: Do the math!
See how many hours occupies each of your activities on a weekly/ monthly and yearly basis  and what are the gains you take from each of them.
For example:
Let's say you're running 30k a week. That totals (under my pace):
–  3 hours/week
– 12 hours/ month
– 144 hours/ year
On average.
That's a price of 18 days of 8 hours per year from which you get the followings:
– A state of wellness after each running session
– A raised self-esteem
– Boosted confidence
– A healthier life
– Good tonus and energy
– A nice body on the long run
– Boosted power of concentration
– A stronger immune system
– Better decision making process
– Lower stress levels
– Inner balance
Is it worth it? For me, it definitely is. It's a small price for a long term investment.
Now, think about these hours as something you invest different in your life. Draw the line and see what's that you get from that invested time. If the outcomes have a lower value than the investment, you gotta think about that.
It's not money we exchange today, it's time. And that comes in the same amount for all of us. What makes the difference is the way we choose to invest it.
2019: What's next?
My New Running Goal: To take over the Top 20 most amazing Running Places around the world. In a single pair of Nikes.
As I was saying above. You gotta change your goals and routines once in a while if you want different outcomes. This year, I decided to move my focus from Distance Running to 20 check-ins in some of the best Running Trails.
56 year later, I'm setting out to remake Phil's inspirational journey around the world, the one that connected the dots for Nike. But with a personal twist. Taking the swoosh around the world in a single pair of Nikes would be the challenge.
Creating a story around the world with a pair of shoes to carry on the entire experience between their laces.
Compare these 20 places and see what's different about each of them.

How does the shoes hold on to the challenge?

What's the best about the overall experience in each place?

How the does the weather and environment conditions affect the overall running performance?

Immortalize the moments in a signature picture.

Shoot the story.

Move forward.
At the end of the journey, I wanna make a proposal for a new line of Nikes made for those thirsty for discovery and adventure. A line dedicated to Phil's Discovery Journey around the world.
Why a single pair of Nikes for the whole experience?
Because it represents you, me, each of us going through life while discovering ourselves. We get dirty, we get clean, we get soft, we get tough, sometimes the laces are too tight, sometimes they're not tight enough for how far we wanna go. And regardless of the experiences we're going through, our core remain the same. The only thing that changes is the surface, as we get old. And you know what they say: We should always walk our talk.
It's not about running away, it's about running in the right way.
#Run #DiscoverYourSelf