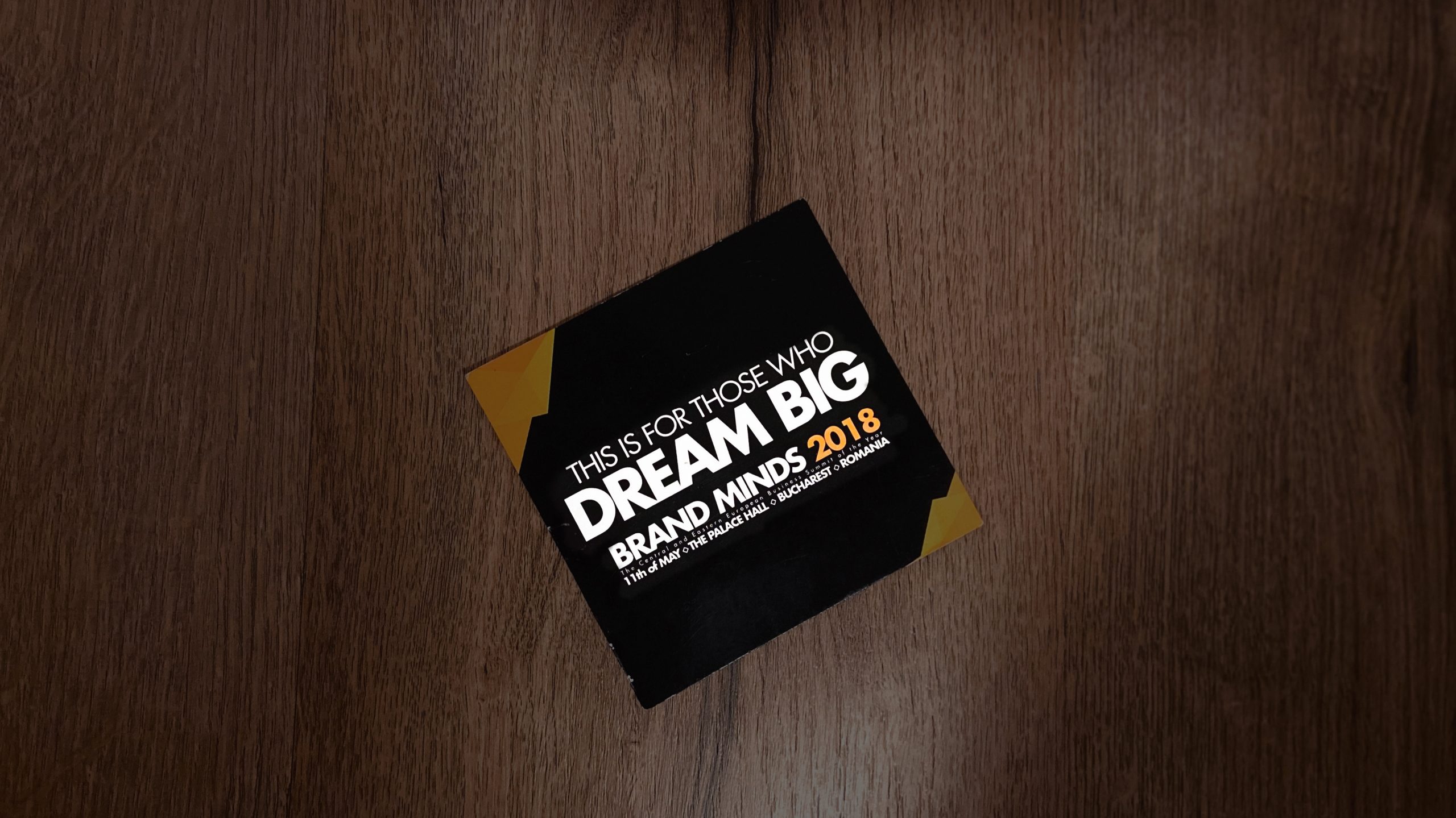 Let me tell you a story about failure and passion that nurtured learning like nothing else.
Let me tell you about 48 hours that felt like the most important exam one had to pass.
Let me tell you the story of a handful of people I deeply admire who taught me that failures are only made to prepare you for those great things waiting for you in life.
THE BEGINNING
The first touch I had with BRAND MINDS happened in 2017 when I joined the event as a participant. You couldn't be anything less but amazed about the standards of excellence that one team of professionals could achieve in Romania. It was profoundly intense and filled with such creative energy that I knew for a fact that I wanted to be part of it.
When 6 events later you are still working in the same place you know it's either because you're too comfortable being self-sufficient or because you know you're where you are supposed to be.
Well, if there's something BRAND MINDS never was as a job, that's comfortable. The learning journey was an endless adventure and keeping the standards high makes one's job as demanding and challenging as it could be.
But, how do you manage to keep the standards high for 7 years in a row? By creating value and caring about people. By doing your homework and looking for innovation.
You do it by researching your market like you would be researching for your godparents.
You do it by analyzing the brand positioning of your target speakers in the mental perception of your audience. Sometimes, they might be rockstars on the international stage, while still unknown to your market majority. And that's the moment when the hustle starts. You have one year to build one's personal brand on a market that covers 70% of your event's audience.
You keep standards high and create value by keeping yourself up to date with the latest events and outstanding projects that are pushing the pursuit of education forward.
You do it so you can bring innovative perspectives and a fresh growth mindset for the communities around you.
You do it because you believe like nothing else that education can and will change the world.
THE DISRUPTION
In March 2020, we've all been challenged by life in ways nobody was prepared for. We had to change and adapt and so did we.
After 7 years when it was founded out of the desire to bring inspiration to people, in 2020, BRAND MINDS was supposed to take place as a physical event on May 4th. When the pandemic hit and we acknowledged that we needed to postpone the event, it was hard. However, when we realized that we had to move the event in digital it was even harder to take. We knew that the energy created on the summit day was the core part of the whole experience. And we didn't want to just organize another online conference.
On a side of everything, once the lockdowns got installed, people started to struggle and the situation didn't get any easier for us either.
There were hard times coming: 6 months with little income for the company and a pessimistic vision for the events industry at that moment. And regardless of the odds not being in your favor, you decide to do something for the community and go for the extra mile.
There was an easy option too, going forward with the online event and the initial lineup of 9 speakers while holding onto the logistics money. Yet, this is far from what actually happened.
It hasn't been a time more vulnerable than this year when people needed motivation and we knew we could do something about it, so decided to put everything that was left into bringing 10 more top-notch speakers on the digital stage.
It simply felt like the right thing to do.
BRAND MINDS LIVE
What happened on Friday, September 25th was probably the most painful moment our team experienced since BRAND MINDS was founded 7 years ago.
The main platform unexpectedly crashed, while the backup servers were taken down by a massive flood at the same time. And how could you communicate to those 7000 people who already checked-in, the backup page when even that was in the process of recovery?
There were hard moments and you could honestly understand and empathize with people's frustration.
What made me deeply sad, however, were the reactions of hate generated by these technical issues and the projections of the event being a scam.
It was a cold realization that we still have a long way to go until we build a society that is uniting to empower and not to tear apart. It wasn't the people's anger that made me sad, for that was a mistake we acknowledge and understand. It was the eagerness to tear apart something with such ease, regardless of the value that was created and the experiences that were enabled by the same entity in the past 7 years.
It made me realize there are still people who don't yet understand the vision of a society that lacks opportunities.
It made me realize there are still people who are not able to see the long-term effects of removing something that educates and enables.
LEADERS NEVER QUIT
At 1 AM, when the 1st DAY of BRAND MINDS finished at the studio, I found at the office a team of 10 amazing people ready to hustle for an entire night to make things right.
There were almost 48 hours with no sleep and a brand new platform that was all set for the 2nd DAY of the event, ready to deliver. A new check-in infrastructure, website coding done, data exported, communication planned for 3 different objectives, and people checking their work side by side to make sure they won't make mistakes due to fatigue. It was simply incredible
It was that endless Saturday night while watching each of them working with a calm and dedication that I haven't seen before that made me realize Good Change will thrive in the end.
When you have that fiery passion and your intentions are good, the Universe will do its part.
There were difficult lessons to digest and a tremendous challenging exam. But if I know something for sure is that this particular team of people will use them all to build a stronger and wiser foundation of what BRAND MINDS is meant to become.
I do believe this will all my heart.
A.